4. As kids, we were even told that when we went to the beach, we shouldn't wear green,...
..., because then the Queen will take you in as part of her kingdom. The believers often come to the Indian Ocean and bring offerings to her at least once a year. Some said she likes bull heads, some said she's a vegetarian. Her story is so fascinating that researchers all over the world come to study her lore.
As for myself, I only know that the Indian Ocean has such big waves, and whether The Queen's there or not, it didn't matter. I was just simply afraid the sea would swallow me, as my nightmares had taught me as a child.
But I did love hearing the stories shared by my Bugis grandmother and somehow found out myself comfortably being at sea when I'm on the boat. Either on a kayak or tall ship, I felt quite confident and grew sympathetic towards the sea. I finally developed a cautious love for the sea alongside the fear, a new layer to the relationship.
The lingering fear was still big enough that I almost gave up my efforts to start the cultural vessel Arka Kinari, until the Queen of The Sea came to my dream one day. Her appearance in my dream was the last confirmation for me to finally accept that I had to sail with Arka Kinari, face my fears, and not doubt our dream: to slowly tour by water and spread the story of how we can survive in the anthropocene.
My love for the sea is now growing even bigger. I came to realize that the sea has a very feminine energy. One day when me and co-founder Grey Filastine were discussing the Queen of The Southern Sea, we both agreed that the reason her presence resonates with all seafaring people is because before we even entered this world, we were floating in salty water inside our mother's womb. And just like all mothers, the oceans are the destinations of all rivers who witness our everyday acts, whether good or bad.
If we were to touch the seas, we could feel these stories meet and coalesce into each other, transported from one island to the great unknown beyond.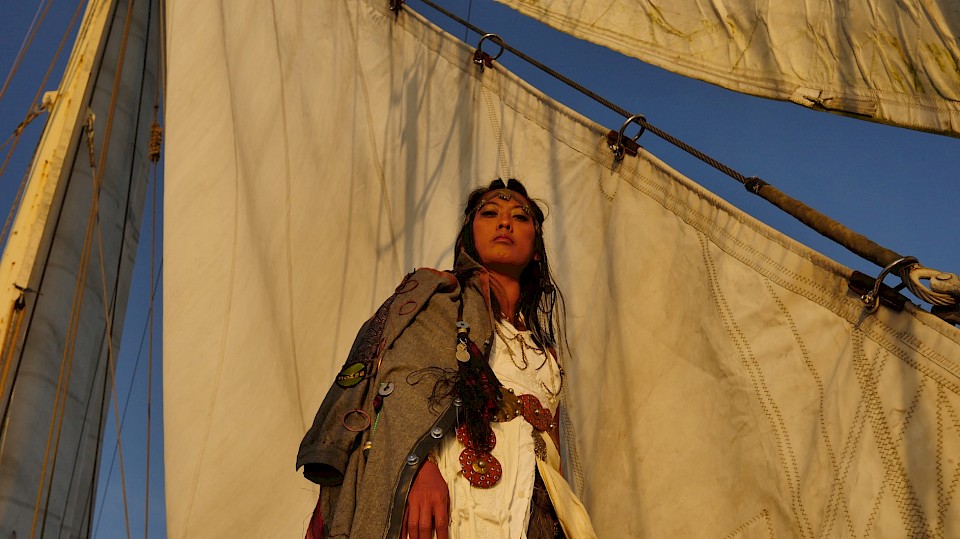 go to artist profile